YOU ARE HERE Homepage > About Geoff Hodge & GardenForum Horticulture
About Geoff Hodge & GardenForum Horticulture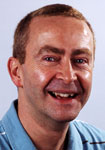 My name is Geoff Hodge. I am a freelance gardening and horticultural writer, author, editor and radio and TV broadcaster living in the UK.
My aim is to help gardeners get the best from their plants and garden and somewhere you can come to ask plant and gardening questions, solve your problems and get help, hints, tips and advice.
Find out more about me, my career and the services I can offer
I offer a professional service for the gardening industry, trade, commercial companies and garden centres
Find out about my professional services
I give talks to gardening clubs and horticultural societies
I live in Peterborough, Cambridgeshire, but can offer a nationwide service.